About CLEP Accounting Exam Prep


This app for the iPhone, Android and BlackBerry provides 118 simulated exam questions with detailed answers to prepare you for the CLEP Financial Accounting Exam.

Questions are presented in an easy-to-use interface with both study and practice test modes. Each multiple-choice question is paired with a clear and thoughtful explanation and a highly-detailed Key Takeaway that summarizes the main learning point of the question, ensuring a comprehensive understanding of the material.

Use as a practice test, study material or refresher. This app covers nearly all topics on the CLEP Financial Accounting exam, and is also effective review for an introductory level Accounting class at the college level, or as a course-in-an-app for someone who wishes to learn the material on their own.

About the CLEP Financial Accounting Exam

The CLEP Financial Accounting examination covers key concepts from a first year accounting class.

The College-Level Examination Program (CLEP) is a great bargain as it allows you to receive college credit for qualifying scores, saving you hundreds to thousands of dollars. You can earn credit for knowledge that you have gained through your own study, prior course work, career, professional development, cultural pursuits, or internships.

Areas Covered:
General Topics
Income Statement
Balance Sheet
Statement of Cash Flows
Miscellaneous Accounting Topics
Availability and Pricing
CLEP Accounting Exam Prep is available in all iTunes global markets for iPhones and the iPod Touch.
Price: $3.99 - Buy the best CLEP Accounting Exam Prep iOS app here!
CLEP Accounting Exam Prep is also available for BlackBerry.
Screenshots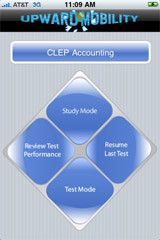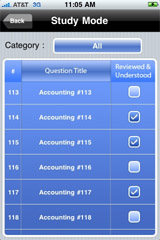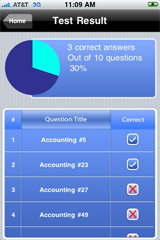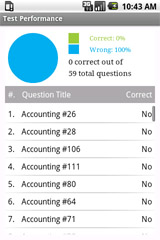 About Upward Mobility
Upward Mobility creates high quality management education and test preparation material that is witty, engaging, and adds value in the learning process.

We hire only expert writers who have strong knowledge in the subject matter and put all of our materials through a thorough review process. We deploy our content through mediums such as mobile applications and other interactive channels.

We are a double bottom line company that is committed to education in the developing world. Some of the profits will be used to deploy education via mobile phone in emerging countries to improve their total factor productivity growth.